Most expats are concerned about the drinking water in any new country that they visit. So the first question I asked on arriving Egypt was "Is the tap water drinkable ?" Most people whom I asked this question of said "No"
It seeems the water is ok for cooking but not for drinking. I took this to assume that this meant that water has to be properly boiled before it can be safely drunk. Same safety standards & comon sense as anywhere else in the world.
But if like me, you don't want the hassle of boiling water or don't like the taste of this water since you are used to something else then your other option is bottled water.
Each ones taste is different.
For me, I don't too much fancy the taste of "Baraka"
Aqua Siwa
is a brand I do like.
There is also a brand called Siwa with a pink screw cap. This also I like. I also trust
Pepsi's
brand
Aqua Fina
Nestle's Pure Life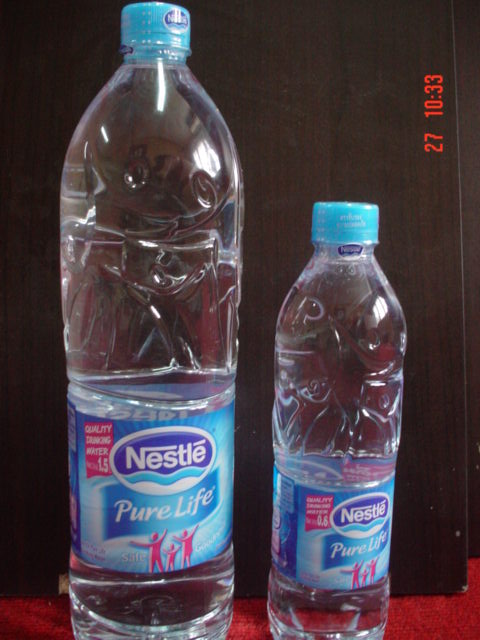 & Coke's Dasani. But the reason behind this could be pure familiarity in an unfamiliar land.
The only one of these brands that I trust, that provides bulk water in Cairo seems to be Nestle's pure water
Unlike India, where Bulk water is cheaper to source than Individual bottles, here its just the opposite.
A quick price break up for those who are considering a bulk water scheme :
Hand Pump - 50LE
Electrical Hot & Cold Water dispenser with mini fridge from Nestle - 1150LE
Electrical Hot & Cold Water dispenser from Carrefour 350-1500LE
Price/5gallon jar of Water (19 litres) - 17LE
Refundable deposit per jar - 50LE
Price of a 1.5ltr bottle of
Aqua Siwa - 1.35LE
Aqua Fina - 1.45LE
Nestle - 1.65LE
Hence 19 litres of this would work out to between 17 to 21LE. But if you buy a crate of 1.5litre bottles at a time, the price decreases substantially. I last paid 16LE for 18 litres of Aqua Fina (Crate of 12 *1.5ltr bottles)
For those who are busy taking out calculators, here is a working out of prices per litre (1 litre)
Individual bottles bought 1 at a time : 0.9 to 1.1LE
5 gallon = 19 litres jar : 0.89LE
Crate of 12 *1.5ltr bottles : 0.89LE
Looks simple ?
ah, but u forgot the but u forgot the dispensing mechanism
Assuming you use
50 jars
over the period of your stay here
with the lower priced hand pump : 0.95LE
with company electrical dispenser : 2.10LE
with the lower priced electrical dispenser from the market : 1.21LE
This is without even counting or depreciating the deposit. If you use more number of jars, then this amount will keep decreasing, but this is an indication.
Financially it makes sense to go in for bulk water dispensing only if you have high consumption, as in an office. But for home use with a 2 year horizon buying bottles by the crate makes more sense.
Coming to convenience:
The dispenser gives you hot & cold water on demand.
The hand pump means you will have to fill it in smaller bottles to refrigerate.
A crate of bottles is heavier to bring in from the car.
The jars are delivered home.
You have to go shopping for the crate (or get your neighbourhood grocery to home deliver)
The choice is upto you. Its your call, you decide how much importance & balance to give financial & convenience considerations.
Note :
I have used approximations on market rates. They can change from time to time & across locations. Please do nto take the numbers as exact, but as an almost accurate indication.